Cork is king: how do you use it in your interior?
Fan of a natural atmosphere at home? Cork fits in every room. And it matches any style, because you can match the color and texture to your preference. Extra bonus: in addition to being stylish, cork is multifunctional. You can find out here what the benefits are and how to use the material in your interior.
Did you know that cork is a renewable raw material? The material comes from the bark of the cork oak. After the harvest, the bark grows back on its own. An environmentally friendly process, because no felling or air and water pollution is involved. In addition, cork is recyclable and biodegradable.
Not only beneficial for nature, but also for you if you bring it into your interior.
What are the characteristics and benefits of cork?
Retains heat and blocks noise
Due to the open air bubbles in the cork, the material has a temperature and sound insulating effect. Good for your energy bill, because it retains the heat longer. At the same time, you enjoy peace in your home, because cork absorbs and dampens sound waves.
Repel dirt and water
Cork is easy tokeep clean. The top layer is antistatic, so it does not attract dust. A plus if you suffer from a dust allergy or asthma. Do you accidentally spill food or drink? No drama, because dirt does not absorb. You can quickly clean cork with a vacuum cleaner or damp cloth.
Is sturdy and harmless
Cork will last a lifetime thanks to a top layer that is resistant to scratches and cracks. Moreover, it is 100% safe for you and your housemates - including your beloved animals. Because cork is a natural material, no harmful substances are released. This is how it protects your health.
How do you use cork in your interior?
Cork walls create a warm atmosphere. @waddenparels prove that, who put this beautiful nature product behind their sofa. For their holiday home on Terschelling, they fell in love with the UltraNature Cork wall panels.
Each one is unique, because the panels are handmade in Europe. You mount them quickly and easily on any kind of wall or ceiling.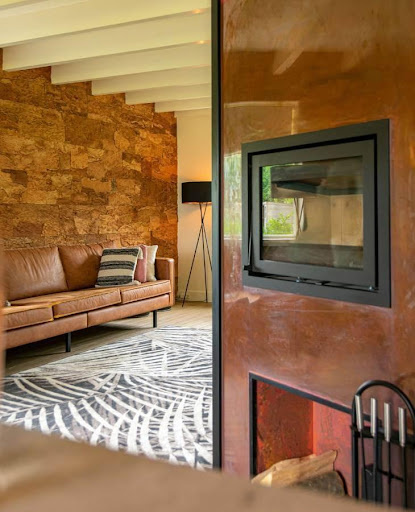 @waddenparels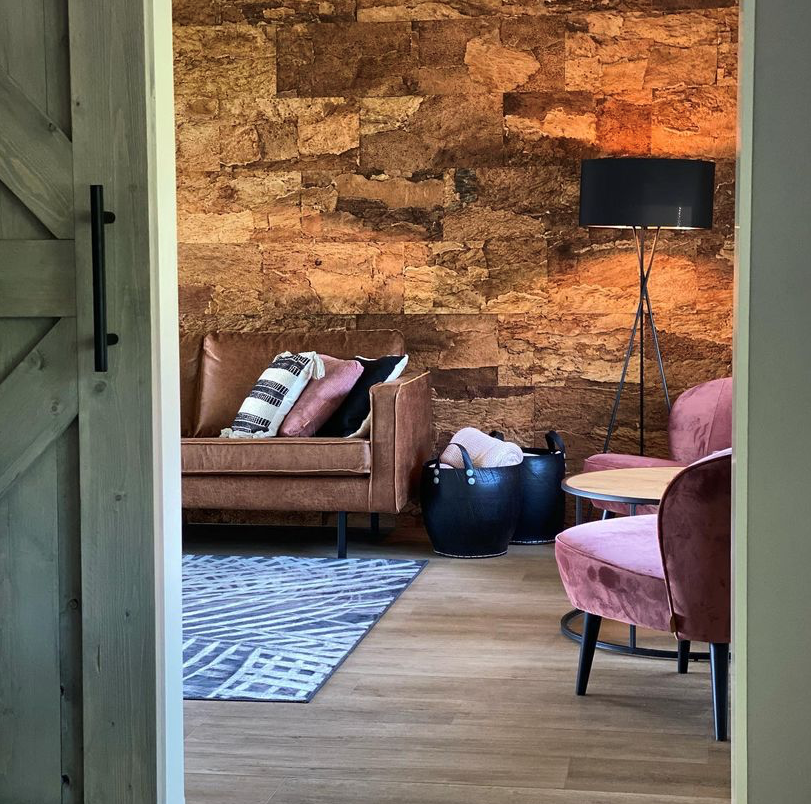 @waddenparels
Grâce and Alex from @brut2deco also think that the natural character of cork walls fits nicely in a living room. Just like @waddenparels, the duo covered an entire wall with it.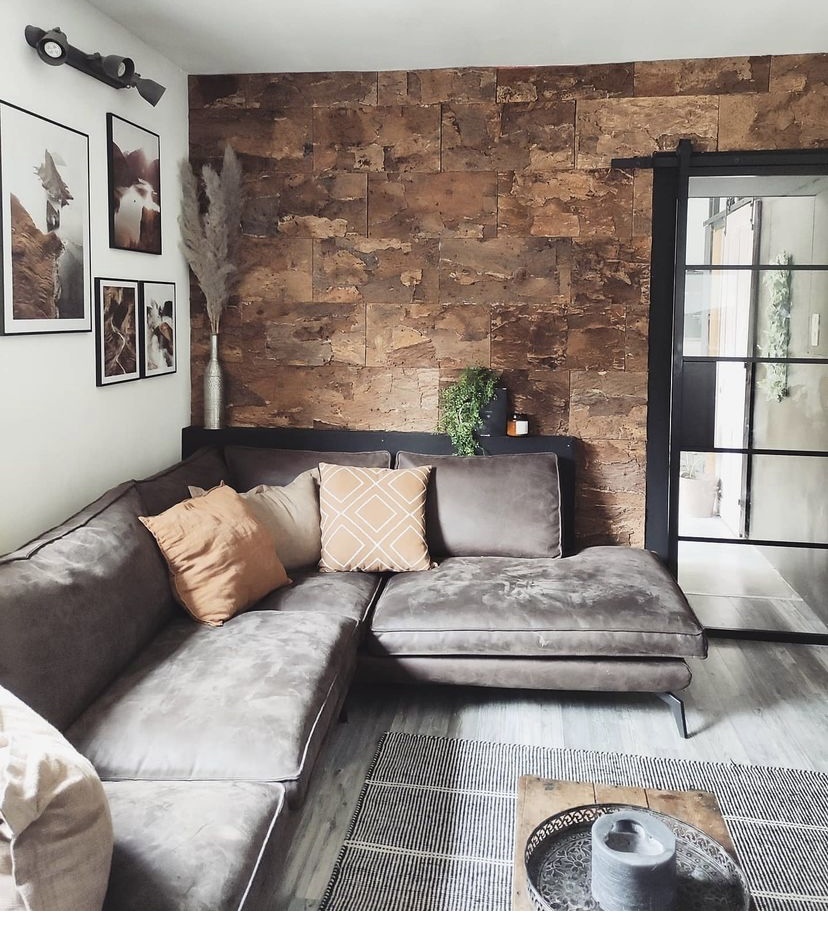 @brut2deco 
The charm and texture of cork can also be added as an accent. You do this by covering part of your wall with it.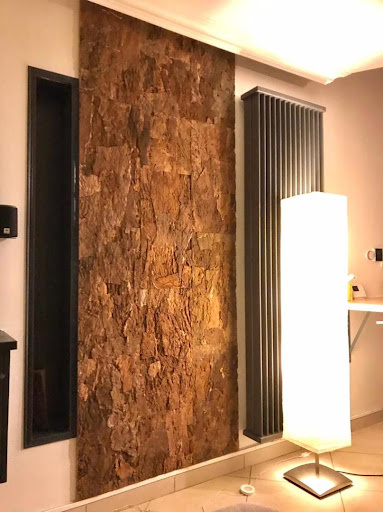 From cork tiles, laminate and parquet to cork on a roll: the range of cork floors is extensive. Once you know which variant you want, choose the color and style. Traditional brown provides a vintage feel, although you can also go for a wood or concrete look.
The soft top layer of cork also springs along. This shock-absorbing effect is useful if you have young children or roommates who have difficulty walking.
Cork furniture and accessories
With furniture and accessories in cork you bring a nod to Mother Nature into your home. For example, you can be tempted by a side table, bar stool or hanging lamp made of cork. Or you go for a subtle accent such as a pin board or vase.
Convinced to enrich one or more walls of your kitchen, hall, living room, bathroom or bedroom with cork?
This is possible thanks to the UltraNature Cork wall panels from the Rebel of Styles brand. You can install the sound- and heat-insulating panels in an instant, without special tools.