Fireplace
Give your fireplace a makeover
As autumn and winter approach, we go hunting for nice decorations to bring the warmth we miss outside back into our homes. Do you own a fireplace? Lucky you, you've got the warmth part covered! You can give your fireplace a makeover in no time with our different products. Think of a wooden back wall, an old-fashioned fireplace framed with beautiful modern stone strips or even a flat wall that looks like a neat wood storage. We're happy to help you on your way with some tips and inspiration!

A warm blanket for your designer fireplace
The designer fireplace in a white wall has been a trend for quite some time now. Maybe you've had it for a while, and on second thought find it a little too bleak in your living room, or you just got tired of it. Fortunately, drastic measures like tearing the entire fireplace down are not necessary, you can easily solve this by covering the outer wall of the fireplace with wood strips. Organic materials immediately bring some extra warmth and character to the room. Added bonus: most woodstrips can be processed afterwards with various products, such as wood oil, stain or chalk paint. This way, you can restyle the fireplace again afterwards and you won't get tired of this new eye-catcher in your home.

If you're not really comfortable using real wood around a fireplace, you can always use the UltraStrong wall tile. These ceramic wall tiles are printed with a special HD printing technique, which makes the tile indistinguishable from a real wood strip. Of course, you can also get them in other designs. The tiles can easily be wiped with a damp cloth and are resistant to various extreme conditions. You can even use these as a back wall for a garden fireplace, a great eye-catcher during cozy late summer evenings in the backyard.

A bolder look is also an option if you're getting tired of the sleek, white style you chose and prefer an industrial look. Your living room quickly gets a completely different vibe by changing the fireplace. Cover it with rustic looking wood wall panels for example, or choose a brick tile for a tough loft look. Add a few new accessories and you won't  even recognize your living room anymore!

Old-fashioned fireplace facelift
Picture this: when you first walked into your house, you fell in love with that large, old-fashioned fireplace. Overwhelmed with nostalgia you thought you could make something beautiful out of it, but unfortunately it doesn't work out well with the rest of your home. Sounds familiar? If so, our products can help you on your way! They are suited for almost any surface and are easy to assemble yourself. For example, you can cover that old fireplace with modern stone strips, or you can go for a warmer look by using our Rebel or Styles wood panels. The best surface required for assembling the products may vary from one product to another, so check this in the product information before you order your wood panels or stone strips.

Wood storage wall panel
To really finish that cozy corner around your fireplace, a wall with wood storage is really great. Unfortunately, it's not an option for everyone, because it takes up a lot of space and it's quite the challenge to make it yourself. Besides, not everyone is eager to store real wood in their living room, can you imagine taking in a big spider from the wood shed, and having it dangle in front of you  during a cosy evening in front of the fireplace? Luckily style4walls has the solution for you, the Rebel of Styles Ultrawood 3D woodpanel "Firewood". These wall panels consist of a black background on which slices of wood are attached. Because of the 3D effect it looks like there is a real storage space for firewood in your wall. In reality, however, they are super lightweight wall tiles that you can easily install yourself on almost any surface.
Attention!
Ultralight coverings are classified in the class E according to BS EN 13501-1: E, that means that they are normally flammable. Ultralight products are therefore not suitable for installations near heat sources, such as chimneys and stoves. Our UltraLight products are resistant to a minimum temperature of 5 ° c to a maximum temperature of 50 ° c. Apply the product in addition to a temperature between 15 ° c and 35 ° c. In case of doubt we advise you to ask an expert for an advice.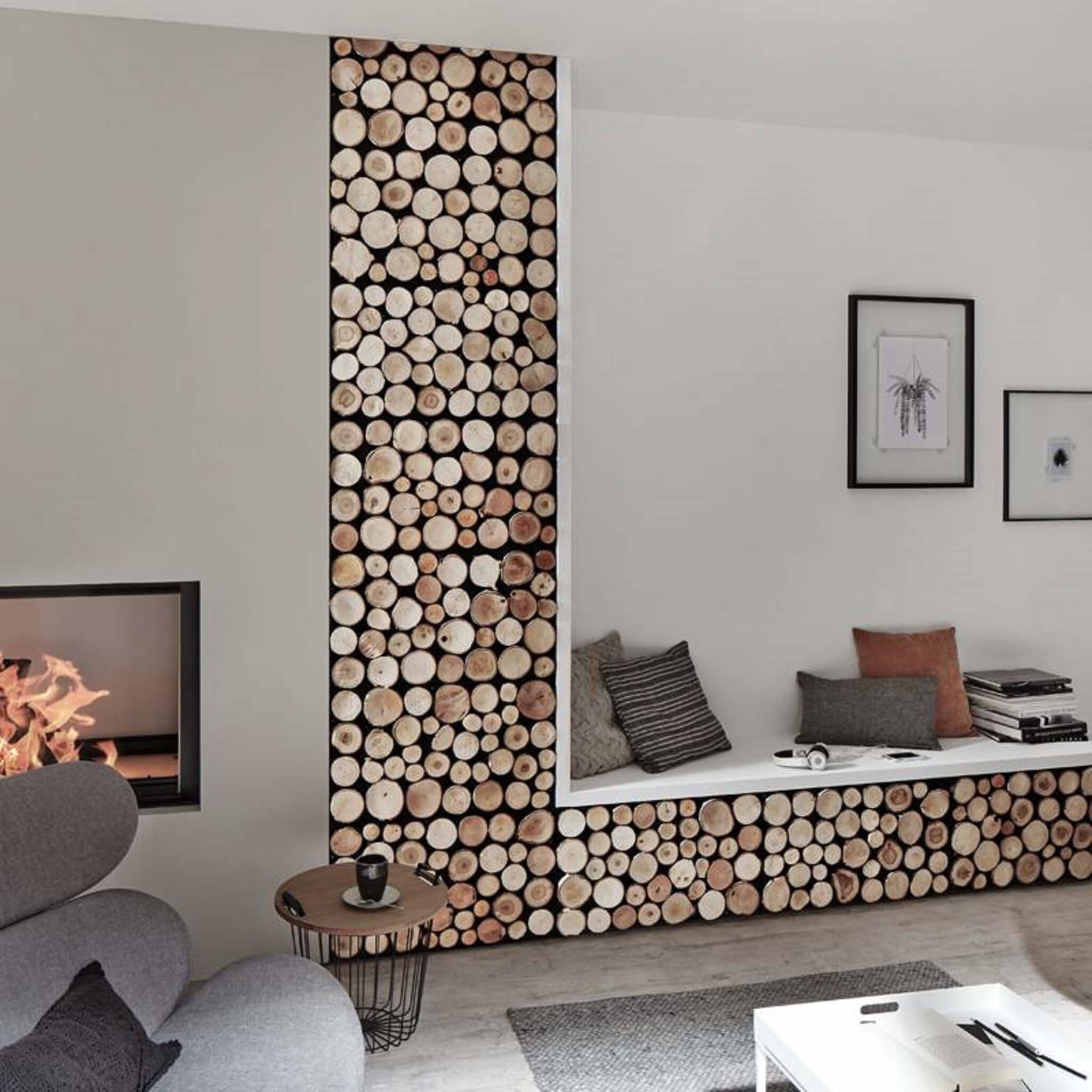 Ready to transform your fireplace and get your home winter-ready? Here's some more inspiration from our customers: