Wood strips in your garden: a summary of the benefits
What are wood strips exactly?
Wood strips are ready made, easy to lay panels with beautiful wood structuring. At the moment wood strips are mostly seen inside homes but, they are also very suitable for gardens. There are however a few more things that you need to pay attention to. The wood needs to be suitable for outside use and processed properly. Hardwood, like teak, is better suited to humid climates much like the one in the Netherlands, they're not as susceptible to warping or swelling as other types of wood. The drawback of using unprocessed hardwood is that it may discolour, there is a chance of it becoming somewhat grey over time. To combat this possible issue, you could always treat the wood strip yourself with teak oil or even paint.
If you prefer colourfast wood strips, there are ceramic wood strips available. These are made with a special printing technique which provides the strips with woodprint and are barely distinguishable from the real thing. The advantage of using ceramic wood strips is that they're easy to clean and water/rain resistant. There are definitely plenty reasons to add wood strips to your garden. But what are the benefits? It is our pleasure to tell you.
1: Your garden seamlessly blends into your living room
The summers keep getting warmer and thus we spend far more time in our gardens than ever. For some the garden is even an extension to their living room. If you're spending whole days outside the garden needs to have just as much ambiance as your living room. Wood strips can help with that! Do you use many wooden elements in your living room? Extend that style to your garden. For example: use an accent wall under your pergola or back your outside kitchen with wood strips. Want to add a pop of colour? You can paint, stain or oil most wood strips.
2: You're using sustainable materials
The use of sustainable materials isn't only a trend, but is also important if we want to continue to enjoy both our climate and our gardens. Most wood strips are made of recycled wood or wood with an FSC-certified. This certification guarantees that the wood is from a responsibly managed forest and isn't the result of illegal logging in the rainforests. To make it even more sustainable you can treat your wood with a preservative. This makes sure that no water damage occurs and you can enjoy your wood strips for years to come. That's also sustainability!
3: They're ready to use
It might seem like a lot of work to add that accent wall to your pergola. You can probably already see yourself putting together the pieces of a puzzle made up entirely of woodchips. However, it's not a difficult task at all if you're using wood strips! The wood strips from style4walls have already been attached to panels, therefore we have already created an attractive pattern for you. The panels have been assembled into a zigzag pattern which makes it easy to slide each panel into place. You may possibly have to trim the edges to your desired measurements, but other than that, you can start immediately. Wood strips are applied using a special kind of glue. Therefore, there is no need for nails or screws.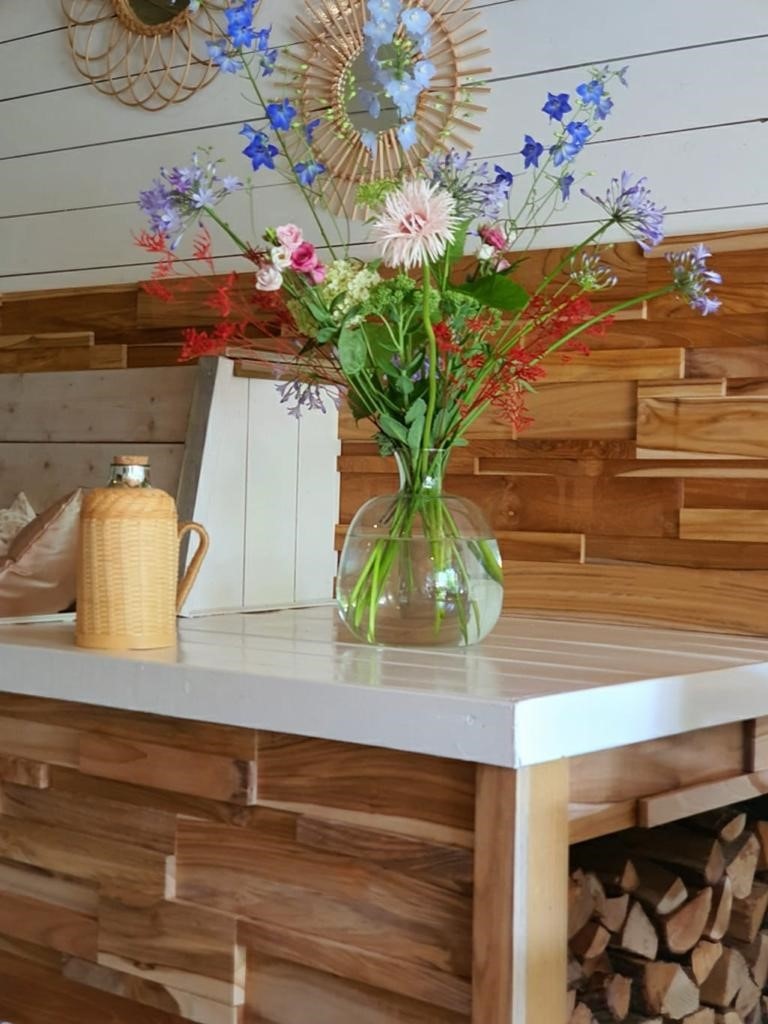 4: You can easily cover up that ugly fence or wall
Do you have an ugly fence or wall that you just can't stop looking at? It was one of the things that you convinced yourself you'd change once you were settled after the move. It's now been a couple of years since then and you still haven't had the chance, and every summer it's a thorn in your eye. But, getting a new fence is a whole investment. By using wood strips, you can easily transform the source of your irritation. Just one weekend of putting in the work and no one will ever be able to tell that there's an absolute eye sore underneath. Add a few nice plants to your garden and it looks like you've just completed an entire makeover!
5: You can apply endless variations
If you were to choose hardwood wood strips, you could easily process them yourself. That way you can change the whole look of your garden every year! Easily bored with the look of your home? Always looking for something new? Now you can easily change your garden match. In your first year you could go for a simple timbered look, combined with some pretty flowerpots and hanging plants. In the year after that, you could choose a white chalk look. Add some accessories in fresh colours and a palm tree. Your garden immediately has an Ibiza-esque feeling. In your three, you go for the industrial look. By painting the wood strips black and throwing a large cinderblock and some steel furniture you're good to go. Your garden will never be boring again using wood strips!
Are you excited about the benefits of wood strips and would you like to have them in your own garden? Quickly go take a look at our selection for your perfect wood strip!